An Alchemy bench is an object in Kingdom Come: Deliverance. They are alchemy stations used for brewing potions, and can be found near an herbalist.
Tutorial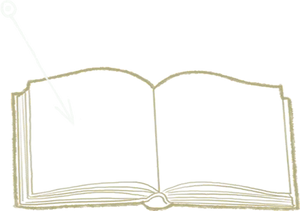 In the alchemist's lab you will find on the right side of the bench a herbarium, which lists all the properties of herbs and all the recipes you have so far learnt. You open it with

and using

turn the pages to the recipe or plant description you want.
It's always best to follow the recipe in the book. By holding

on the recipe, you can also set all the necessary ingredients straight onto the alchemy bench.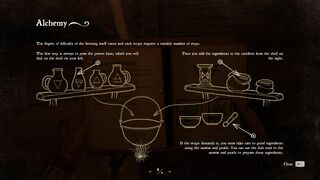 The degree of difficulty of the brewing itself varies and each recipe requires a variable number of steps.
The first step is always to pour the
potion base
, which you will find on the shelf on your left.
Then you add the
ingredients
to the cauldron from the shelf on the right.
If the recipe demands it, you must take care to grind ingredients using the mortar and pestle. You can use the dish next to the mortar and pestle to prepare these ingredients.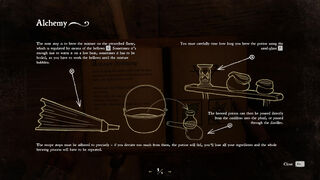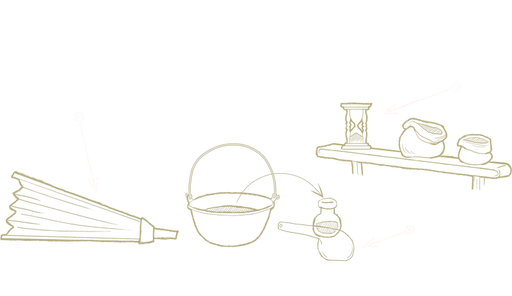 The next step is to brew the mixture on the prescribed flame, which is regulated by means of the bellows

Sometimes it's enough just to warm it on a low heat, sometimes it has to be boiled, so you have to work the bellows until the mixture bubbles.
You must carefully time how long you brew the potion using the sand-glass

The brewed potion can then be poured directly from the cauldron into the phial, or passed through the distiller.
The recipe steps must be adhered to precisely – if you deviate too much from them, the potion will fail, you'll lose all your ingredients and the whole brewing process will have to be repeated.
Bases
There are four bases used to brew potions. These are always supplied at the alchemy bench:
| | | | |
| --- | --- | --- | --- |
| | | | |
| Aqua | Vinum | Oleum | Spiritus |
| Water | Wine | Oil | Spirits |
Ingredients
There are 22 alchemy ingredients: