Line 13:
Line 13:
 
 
 

== Ingredient in ==

 

== Ingredient in ==

 
+

* [[Cockerel]]

−

:please add

 
 
+

* [[Dandelion syrup]]

−
 
 
+

* [[Digestive potion]]

−
 
 
+

* [[Hair o' the Dog potion]]

 
+

* [[Preserver]]

 
+

* [[Spirits (potion)]]

 
 
 

[[Category:Herbs]]

 

[[Category:Herbs]]
---
Revision as of 00:31, 18 February 2018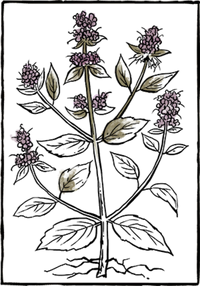 Mint (latin: Mentha) is one of the herbs which can be picked.
Game description
He who mulls wine with mint and drinks it in the morning cannot that day be intoxicated by any other drink.
Herb effect
Improves speech and dispels fatigue, but increases hunger.
Occurance
It is rarely found in nature, but rather alongside houses and in gardens cultivated.
Ingredient in