Jurassic World: Dominion Dominates Fandom Wikis - The Loop
Play Sound
Pickpocketing skill makes it easier to rob people on the street unnoticed and lowers the chances of witnesses seeing you in the act.

New perk points unlock at levels: 2, 4, 6, 8, 10, 12, 14, 16, 18, 20
Codex entry
Pickpocketing and petty theft most often happened in crowds, in taverns or on the road and in throngs of merchants, wagoners or pilgrims. The loot would be offered for sale in other drinking dens. Thieving was an underhand 'craft' and the identities of the miscreants were known in the vicinity – if they managed to escape justice for long, that is.
Picking pockets is no joking matter. If you're caught with your fingers in someone else's purse, either by the victim or by a witness, they'll raise the alarm and you'll be pursued as a thief. In order to rob someone successfully, you first have to sneak up on them unnoticed and then by holding

begin stealing.
Once you've got your hand inside your victim's purse, you have to grope around inside it by holding

. That's not easy, especially if your victim is on the move. The longer you grope, the better your chances of finding the most valuable items. The progress of your groping is shown by the yellow indicator:


Once you decide you've searched long enough, you can choose from what you've found

and

. Each person has his own inventory, which you will gradually discover using

, and the most valuable items are usually at the very bottom.
But remember: it's not enough to grasp the loot - you have to get your hand out with it too, that is, go back to the top posit ion. The amount of time you have for taking items was determined at the beginning by the amount of time spent searching. This is shown on the gold progress bar around the circumference of the purse.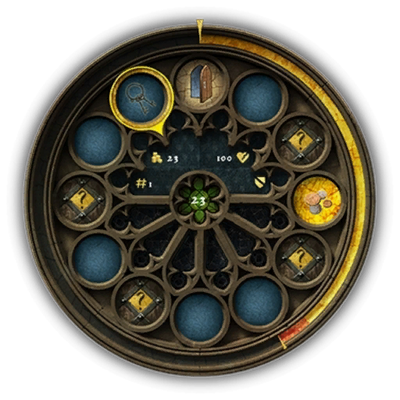 Perks
Skill books